Can blogging really be fast and easy?
It can be with these 25 templates.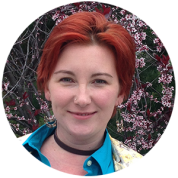 I'm sure you have more important things to do with your "work time" than agonize over content for your blog.
But maybe you're caught between a rock and a hard place.
On one hand, you know you want to have content on your blog that will help your business grow. You want blog posts to demonstrate your expertise, bring in traffic from search and sharing, and build your reputation online so you can attract customers, clients, and referrals.
On the other hand, coming up with content can be HARD. And scary. And like you've been left out in the wilderness to fend for yourself. And everyone is telling you how EEEEEASY it's supposed to be, and you just want to hide under the covers and watch reruns of The Big Bang Theory.
Hard and scary = no bloggy-bloggy for you.
That's not really good for your business.
So I've got something that's going to help you out.
Shall we discuss?
Everything's easier with a template.

Writing a blog post is like making dinner.

The technical "making" part isn't that hard, but the "deciding on what would be a good idea tonight" can be paralyzing. Coming up with ideas out of the blue, and feeling like they're all good enough… that's the hard part.

But working from recipe ideas isn't hard.

You can look at a recipe and just decide to follow it.

You can use most of the recipe and modify one or two things in it.

You can ignore the recipe entirely because it gave you a cool idea for something different and exciting.

But those recipes? They're the spark. The recipes are the things that take care of all the thinking and deciding so you can just do the doing.

And when you don't have to think so hard about what to make for dinner? You have more energy to make something wonderful.

And it's easy. The work is still worky, but it's not hard.

We can make blogging that easy, too.

I've put together 25 recipes that will keep you in easy content from here until the end of time.

And we're talking real content, too. Yes, it's easy but it will also be awesome. (In fact, you'll probably do your best work ever with these templates.)

They're called Plug & Play Blog Posts, and they're the easiest thing in the world to do.

Here's how they work.

Plug & Play Blog Posts is – hands down – the easiest way to get consistent content up on your blog.

My goal is for you to be able to create a blog post with 5 minutes or less of planning – and 0 minutes of wondering what you're going to say and how you're going to say it.

So I've designed each component in the Plug and Play Blog Posts system to make that goal easily achievable – and something you can start on within one hour of downloading the templates.

No lengthy training, no hard decisions, just specific, detailed recipes that show you what to say, and tell you how to say it.

It's called Plug & Play for a reason.

And just like a recipe – you can just cut straight to the getting-it-done part, every time.

Here's what you'll find in your copy of Plug & Play Blog Posts.


25 Detailed Blog Post Templates (With Instructions)

You'll receive templates for 25 specific types of blog posts that have proven to be winners at attracting readers' attention and keeping it until the very end.

These are the kinds of posts that people like the most, whether those people already know you, or they're coming to your blog for the first time.

Each template comes with two parts.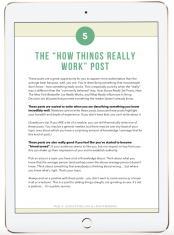 First, there's the Best Practices. This is an intro section that gives you an overview of what makes a good post for this template type. Imagine you were having a drink with me, and I was telling you the little tricks of the trade that separate the boring blog posts from the really cool ones.

I don't want your blog to be boring. I want people to like it a lot.

These are all easy tips to incorporate – they're just little tweaks and angles that make a post "above average". It's like those little fashion tips that can really make your look pop. Give a quick read to the Best Practices, and you'll be able to look like you've been writing professionally right from the start.
Next comes the Simple Post Structure. For every template, you'll also see a section-by-section breakdown of what to put in the posts. This is truly the "I'll tell you what to say and how to say it" part.
Want to know what you should have in your introduction? I'll give you options. Want to know how to close your post? I'll tell you that, too. And in many cases I'll give you several possible options to choose from to make it even easier to pick what's the easy fit for the post you're writing.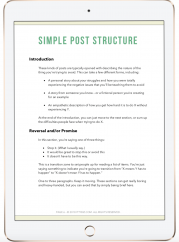 What could be more Plug & Play than that?

The Master List Of Blog Post Templates

On the surface, this seems like a little thing – it's just a one-page list of the 25 post templates that are included in Plug & Play Blog Posts. Seriously, look at it. It's just one page.
But! It's one page of easy.
Print this page up, or keep the PDF on your desktop, and you can look the list over anytime you want to start writing (or begin brainstorming potential topics for your next few posts).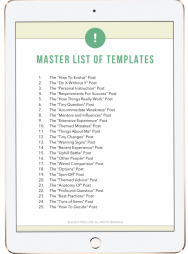 If you keep this list in your line of sight, deciding to start creating new content gets easier because the first part of the process will only be one step away.

The non-neurotypical among us know how important that is. If you want to start drinking more water, you keep a bottle of water to hand, not downstairs in the pantry.

Right now content seems harder than it really is because there are a lot of steps to take to move to the "getting started" place. Keep this on your desk (or computer desktop), and you'll be ready to go in an instant.

The Blog Post Template Generator

Once you get the hang of writing content quickly and easily with these templates, something really cool is going to happen to you. You're going to develop an eye for good content ideas.
So one day, you'll be happily reading a magazine, or watching a YouTube or cruising a blog, and they "type" of content you're consuming will pop out at you.

You'll think to yourself, "Whoa, I've seen this before… this is like some 10 Easy Ways To Do (Whatever) Better piece!"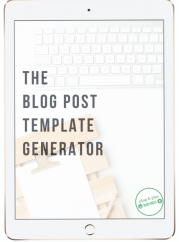 In that moment, you realize you've learned to see the pattern… like the person who made the content was operating off of some kind of template.

And you're going to want to make something similar, because if you know that it was interesting to you, it will be interesting to other people as well.

That's why you'll also receive The Blog Post Template Generator to help you take new ideas and easily turn them into a template that you can use anytime.

In just 5 simple steps, you can reverse-engineer the content that you like and make a template you can use over and over again.

Poof! You'll have a brand-new template - and all future content on your blog will just keep getting easier.

The 1-Hour Content Plan Companion Guide

If you happen to already own The 1-Hour Content Plan, you can combine it with Plug & Play Blog Posts to generate a steady stream of easy, high-impact content.
(If you don't have The 1-Hour Content Plan, you can ask for a 50% coupon once you pick up Plug & Play Blog Posts.)
This simple guide will walk you through the process of using both of these products so you get the best of both worlds.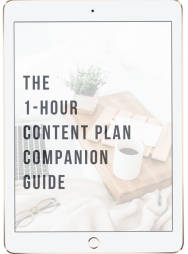 So you'll not only have a source of content ideas that are customized for your unique business, but also a detailed instruction guide that tells you how to write each and every post.

This takes "plug & play" to a whole new level.

Can I interest you in a bonus, while we're here?

Yes, you can use Plug & Play Blog Posts to make it dead-simple easy to get as much content out on your blog as you'd like.

But there's always one part of that process that I see people get stuck on – coming up with a great title for their post.

If that's ever you, then this is going to make your life much easier.

When you download Plug & Play Blog Posts today, you'll see a special bonus inside: The Headline Upgrade Guide.

You can use it to make any blog post title, section header, or even landing page headline much more interesting and attention-worthy in seconds. It's my personal checklist that I consult whenever I'm writing any piece of content for my blog.
Inside you'll find 21 different plug & play options for taking the headline or title you have and making it stronger. They're split into 5 unique categories that each create a specific response in your reader.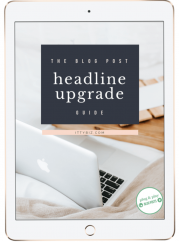 You can decide to use just a single option to spruce up your title, or you can combine a few across categories to make your blog post titles ones that make people stop what they're doing and dive into your content.

This is a great way to make people stay on your blog to read post after post, but it can also help you get more sharing of your content, since these little upgrades are based on the proven formulas that build clickable, sharable content across the internet.

(Oh, and none of them are weird or cheesy. You can show your titles to your mother or your in-laws or your kids, and they won't give you a funny look. Well, not because of your blog post title, anyways.)

You'll also get these 2 tools with your bonus:

The Master List of Headline Upgrades – another 1-page printable that makes it easy to improve your titles without having to read through the main guide.
It's a quick-reference sheet that breaks down the 21 upgrades into their 5 different categories, so you can pick and choose how you want to make any title stronger.
Keep this reference sheet right next to the Master List of Blog Post Templates, and you'll have a ready-to-go combo that can get you moving fast, any time you want.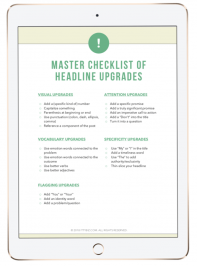 The Headline Upgrader Spreadsheet – Use this to upgrade the titles on the blog posts you already have, at your own pace.
Simply pop in the titles for your existing posts in the left column, create your upgraded version of the title in the middle column, and then track when you've updated it on your blog.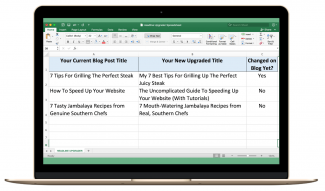 This will make it easy to manage all of the content on your blog and help you make sure that every post is set up to succeed.

Now you know everything that's inside.

Come! See how easy blogging can be with these templates at your side.

Today is a great day to make blogging easy, forever.

Content is a wonderful way to build your business, since it brings so many good things your way.

You can use it to make passive sales, get people on your list, charm customers and clients and build your reputation as an expert… I'm sure there's more I could add to that list, but you already know these things.

But you can't use content to build your business if it's too difficult to make.

That's why we're going to do it the easy way from now on. :)

Download Plug & Play Blog Posts today, and all your content – forever more – will be as easy as following a recipe.

And you can start right now.

Downloading is easy – just click the button below.


Download Plug & Play Blog Posts now!


The IttyBiz Easy-Peasy 30-Day Guarantee
As always, you have the IttyBiz Guarantee - if for any reason this product isn't for you, simply let me know within 30 days of purchase and I'll issue a full refund. No questions, no hassles, no nothing. It's always safe and risk-free to give IttyBiz a try.
Can I interest you in a 50% off bundle?
Before you download Plug & Play Blog Posts, I'd like to let you know about a special bundle offer on all 6 of the Plug & Play products – it might be right up your alley.

Scroll down to see the details, or just click the Continue to Checkout button to purchase Plug & Play Blog Posts by itself.

Or, do even more the easy way!

I want every part of your business to be as easy as humanly possible, so you have more time to do the important stuff (whether that's work OR life).

So I have 5 other products in the Plug & Play series that are specially designed to let you do big things with the smallest amount of work possible.

And if you want the bundle, I want you to have it all for a very affordable price.

Here's what's else you'll get.

The purpose of this product is to make every blog post you ever write a simple matter of picking a recipe.

Whether you have an idea and you don't know how to flesh it out...
Or you have a big list from The 1-Hour Content Plan and don't know what the hell to do next...
Or you sit down to write, but choke up with a blank page in front of you...
This takes care of it all.

I'll tell you exactly how to write every post you'll ever need.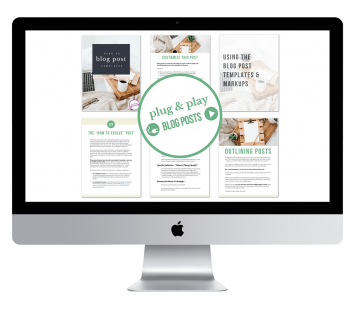 PLUG & PLAY SUBJECT LINES

The purpose of this product is twofold:

One, I want to increase your open rate between 5 and 10% within the next 3 months.

Two, I want you to never have to think about how to start an email ever again.

Write your email and pick a customized swipe file subject line, or browse the subject lines to find inspiration and get started.

Either way, it's done. Finished. You can move on. Click send with confidence.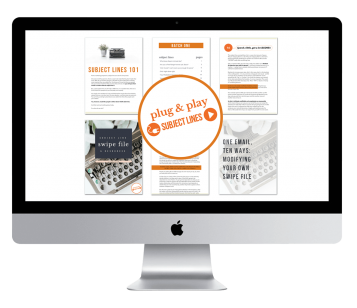 PLUG & PLAY MARKETING CALENDAR

The purpose of this product is twofold:
One, so you can finally know what you're doing with your year (or quarter), and you get out of the "figuring it out" stage.
Two, so you can do so with confidence.
Sit down, follow the steps, plug your information in, and POOF - you'll have a clear and "do-able" plan that will do all the "thinking" for you.
(You can even do it all in one sitting if you want to.)
(With plenty of time for a glass of wine afterwards.)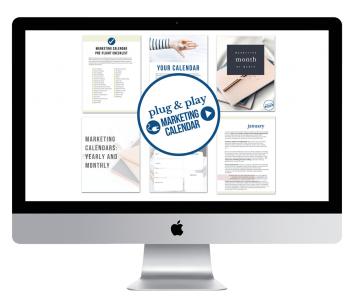 The purpose of this product is twofold:

One, if you don't have a VA yet, this will get you from "where on earth do I start?" right through to having a trained, competent assistant, usually in about 10 days.

Two, if you DO have a VA and they're under-utilized or under-performing, we're going to get you a Kris.
(For those of you who are new, Kris has been my VA - who is now in charge of training additional VAs with this very material.)

Choosing, hiring, training, delegating... don't figure it out on your own. I've already done it for you.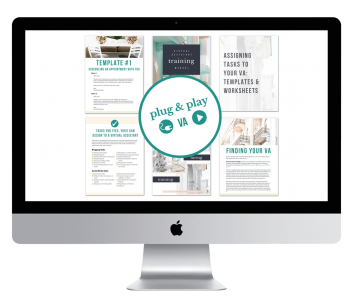 The purpose of this product is twofold:
One, I want you to be able to set your prices easily and confidently so that you can feel good asking people to pay them.
Two, because we both know you're going to want to raise your prices at some point.
We're going to take care of both of those things, right here, once and for all.
Want to feel good about your prices? Want to raise them? We can do that. :)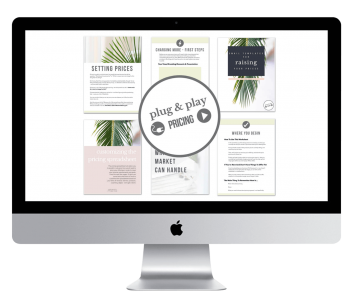 The purpose of this product is to get you consistent, coherent, and contemporary branding across the entire internet in less than one week.
From high level ("what's my brand about, anyway?") all the way down to fonts, colors, and images, you can do it all, faster than you ever thought you could.
Literally - we're going to cover everything you need.
Your new brand. In one week.
Perfectly you, perfectly consistent.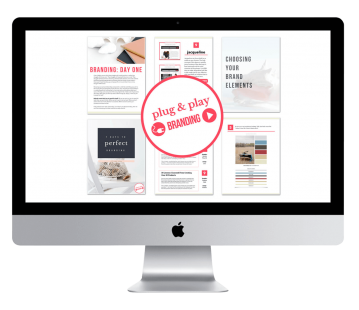 And... one REALLY cool bundle bonus.

For those who are interested, I'm also offering one more thing in this bundle.
It's something that clients have asked me to put together for years, and I've decided that now I'll finally do it.

I've run dozens and dozens of launches and promotions over the last 11 years. I've heard from clients and customers that they will often save my launch emails to study them.

(The braver of them admit they may have "borrowed" a few lines or angles here and there.)

But some people have told me "Man, I wish I had saved them all."

Well, if you want them all, you can have them all.

With my full permission to use / reuse / outright copy anything in them for your own launch or promotional emails.
Yes... you can literally steal my emails.
Now that you know what's inside, would you like to get it all for a huge discount?

If you want to get all 6 of the Plug & Play products for an amazingly low price (plus the Steal My Emails bonus), all you need to do is click the button below.


The IttyBiz Easy-Peasy 30-Day Guarantee
As always, you have the IttyBiz Guarantee - if for any reason this product isn't for you, simply let me know within 30 days of purchase and I'll issue a full refund. No questions, no hassles, no nothing. It's always safe and risk-free to give IttyBiz a try.