Finding, hiring and setting up a VA can be easy – if you have a recipe book to follow.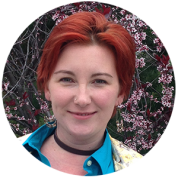 Most people never transition to having a VA because (a) it feels crazy hard to set up and (b) they can't imagine how they'd find someone competent to do the things that need doing… and doing them right.

Or, they have a VA… and it's a bit of a cluster. Either the VA isn't working out, or things are getting awkward, or they don't know how to communicate and give feedback… and they're thinking, "Wasn't getting a VA supposed to make my life easier?"

I hear you. Either way, it can feel hard.

Ideally, at some point though, you'll figure out what you need to figure out to get your VA running like a dream.

Figuring it out, though? That can take a long time. (Took me YEARS.)

But…

Can we just skip the "figuring it out" step and just go straight to some templates?

I made something for you. It's called Plug & Play VA.

The purpose of this product is twofold:

One, if you don't have a VA yet, this will get you from "where on earth do I start?" right through to having a trained, competent assistant, usually in about 10 days.

Two, if you DO have a VA and they're under-utilized or under-performing, we're going to get you a Kris.

(For those of you who are new, Kris has been my VA - who is now in charge of training additional VAs with this very material.)

Choosing, hiring, training, delegating... don't figure it out on your own. I've already done it for you.

Wanna see what it's all about?

Everything's easier with a template.

VAs are people. They act like people, they respond like people, they're really no different from you and I. They're not a kind of alien that we have to struggle to understand.

But if you're reading this, you're probably not in the habit of hiring people, or contracting out jobs, or defining jobs and assigning them to people. It's not rocket science, but like recipes in a cookbook, there are some proven steps & procedures that make things turn out right.

That's what Plug & Play VA is all about. The templates are recipes for taking care of all the moving pieces – testing VAs to see if they're good fits for you, choosing the tasks you're going to assign to them, giving feedback when the work isn't right (regardless of whether that was on them, or on your instructions)…

When you have the recipes, you can cook everything up right the first time.

And when you get it right – right from the start – that's when you start getting your time back, your life back, your sanity back.

So! If VAs feel hard to you now, get ready for it to start feeling easy.

Here's how we'll make it happen for you.

Plug & Play VA is – totes – the easiest way to get new VAs up and running and making life better for you.

Again, my goals are to help you get a great VA up and running in 10 days, or take your existing VA and turn them into a dream VA for you.

So I've designed each component in the Plug & Play VA ecosystem to make those goal easily achievable – and something you can start on today. (Or, maybe tomorrow, if you're downloading this before bedtime.)

No lengthy training, no hard decisions, just specific, detailed recipes that show you what to do, and tell you how to do it.

It's called Plug and Play for a reason. :)

And just like a recipe – you can just cut straight to the getting-it-done part, now.

Here's what you'll find in your copy of Plug & Play VA.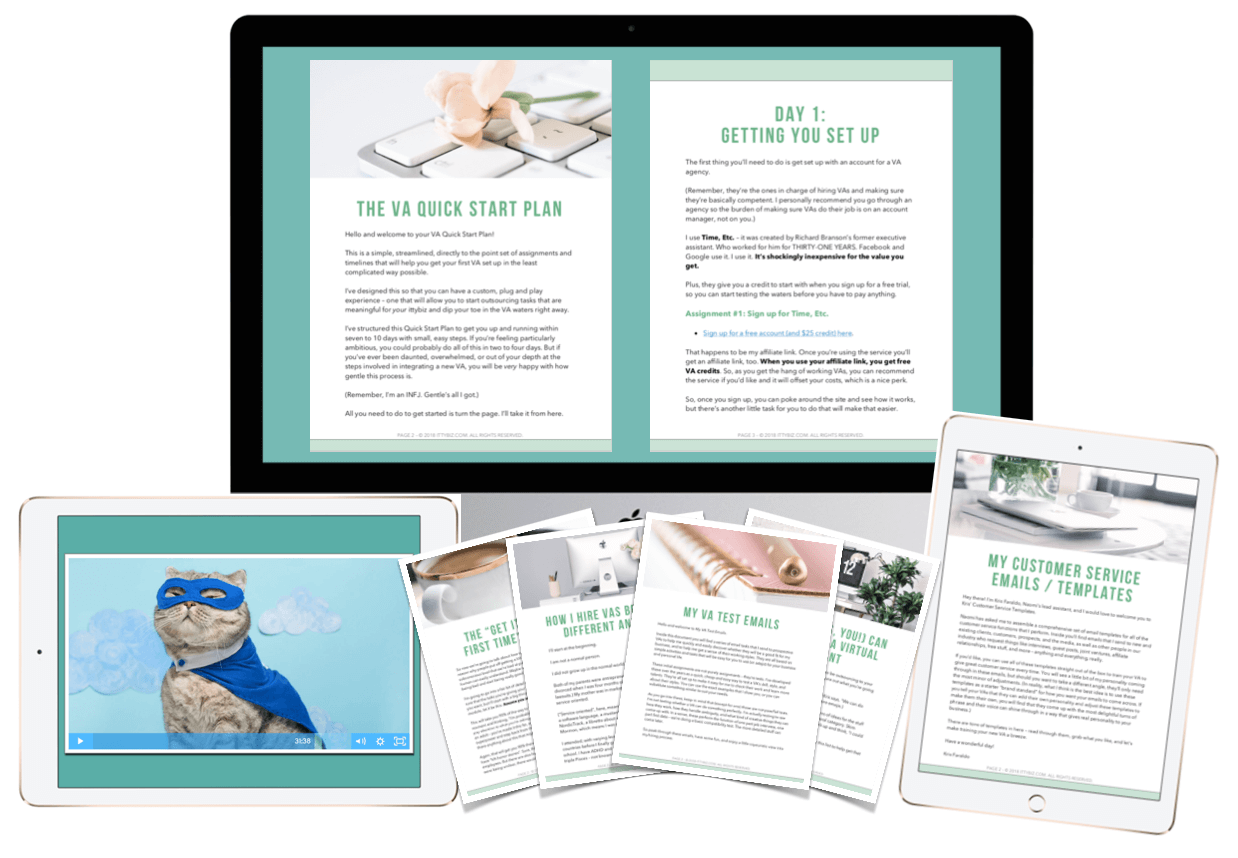 You'll Inside the VA Manual, you'll find a crash course that covers only the stuff you really need to know to get the process moving smoothly and easily.

We'll cover where to find them, how to hire them, how to quickly train them, what to pay them… everything you need to know to make things work.

The opening section is titled "How I Hire VAs Because I'm Different And Weird."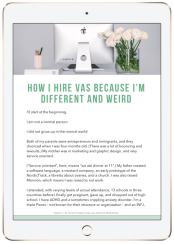 I sucked so much at the beginning that I didn't – and couldn't – follow all the normal advice. So I had to figure it out from scratch. So if you're thinking your situation is a little bit different or a teensy bit weird, you're in good company.

From finding your VA to hiring them to onboarding them, I'll walk you through the process right here.

This is a simple, streamlined, directly to the point set of assignments and timelines that will help you get your first VA set up in the least complicated way possible.

I've designed this so that you can have a custom, plug and play experience – one that will allow you to start outsourcing tasks that are meaningful for your ittybiz and dip your toe in the VA waters right away.

I've structured this Quick Start Plan to get you up and running within seven to 10 days with small, easy steps. If you're feeling particularly ambitious, you could probably do all of this in two to four days.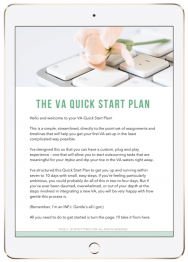 But if you've ever been daunted, overwhelmed, or out of your depth at the steps involved in integrating a new VA, you will be very happy with how gentle this process is.

(Remember, I'm an INFJ. Gentle's all I got.)
Inside this document you will find a series of email tasks that I send to prospective VAs to help me quickly and easily discover whether they will be a good fit for my business, and to help me get a sense of their working styles.

They are all based on simple activities and tasks that will be easy for you to use (or adapt) for your business & personal life.
These initial assignments are not purely assignments – they're tests.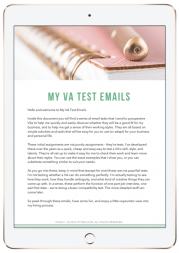 I've developed these over the years as a quick, cheap and easy way to test a VA's skill, style, and talents.

They're all set up to make it easy for me to check their work and learn more about their styles. You can use the exact examples that I show you, or you can substitute something similar to suit your needs.

The "Get It Right The First Time" Templates

In this document I'll show you how to actually send tasks to VAs.

I think this is the reason why people put off getting a VA in the first place – we all know on some subconscious level that we're bad at putting what we want into words that another human can easily understand.

Maybe now would be a good time to decide to stop being bad and start being really good, perhaps?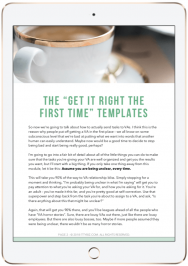 I'll show you all of the little things you can do to make sure that the tasks you're giving your VA are well organized and get you the results you want. This will take you 90% of the way to VA relationship bliss. The other 10% I'll cover that, inside too.
The "Delegate Like A Boss" Masterclass

In this video, I'll teach you the 10 things I've learned (the hard way) about managing virtual staff successfully.

In each, I will attempt to explain exactly how badly I've screwed it up, so you can get the full, rich experience.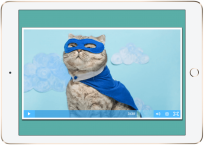 If you feel like perhaps heeding a bit of my wisdom, you may be able to avoid some of the traps I've fallen into. I have spent a tremendous amount of money being a terrible manager, and if you try to avoid my screw ups, you'll have so much more time and money to find new and inventive ways to screw up on your own. Then you can make a webinar!
The Master List of VA Tasks

Not 100% sure what in the heck you're going to be outsourcing to your VA?

I get it. It can be a little heady, trying to figure out what you're going to do and when (not to mention the how).

You could probably use some starter ideas.

(As Kris says, "We can do that!". Although she undoubtedly says it with more emojis.)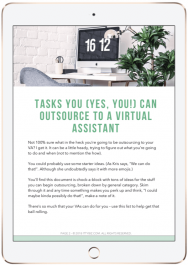 You'll find this document is chock-a-block with tons of ideas for the stuff you can begin outsourcing, broken down by general category. Skim through it and any time something makes you perk up and think, "I could maybe kinda possibly do that!", make a note of it.

There's so much that your VAs can do for you – use this list to help get that ball rolling.
Can I interest you in a bonus, while we're here?

Kris' Customer Service Templates!

Kris says:
"Naomi asked me to assemble a comprehensive set of email templates for all the customer service functions that I perform. Inside you'll find emails that I send to new and existing clients, customers, prospects, and the media, as well as other people in our industry who request things like interviews, guest posts, joint ventures, affiliate relationships, free stuff, and more – anything and everything, really.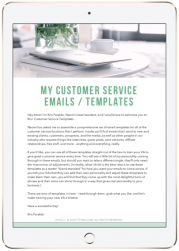 If you'd like, you can use all of these templates straight out of the box to train your VA to give great customer service every time. You will see a little bit of my personality coming through in these emails, but should you want to take a different angle, they'll only need the most minor of adjustments.

(In reality, what I think is the best idea is to use these templates as a starter "brand standard" for how you want your emails to come across. If you tell your VAs that they can add their own personality and adjust these templates to make them their own, you will find that they come up with the most delightful turns of phrase and their voice can shine through in a way that gives real personality to your business.)

There are tons of templates in here – read through them, grab what you like, and let's make training your new VA a breeze."

Thanks, Kris.

Now you know everything that's inside.

Come! See how easy getting your VA set up can be with these templates at your side.

Today is a great day to make VAs easy, forever.

VAs are awesome. They are, in my opinion, the critical step to leveling up your business so you don't have to do all the little things – and you can just do the parts of your business that you actually LIKE.

Once you get a good VA in place, you get your time back. You get your energy back. You get your focus back. You can start making smarter decisions that make you more money and reduce your workload.

But you can't do all those things if it's too hard to run your business all on your own.

That's why we're going to do it the easy way from now on. :)

Download Plug & Play VA today, and getting all those "little things" (and a lot of the big things, to) – will be as easy as following a recipe.

And you can start right now.

Downloading is easy – just click the button below.

Download Plug & Play VA now!


The IttyBiz Easy-Peasy 30-Day Guarantee
As always, you have the IttyBiz Guarantee - if for any reason this product isn't for you, simply let me know within 30 days of purchase and I'll issue a full refund. No questions, no hassles, no nothing. It's always safe and risk-free to give IttyBiz a try.
Can I interest you in a 50% off bundle?
Before you download Plug & Play VA, I'd like to let you know about a special bundle offer on all 6 of the Plug & Play products – it might be right up your alley.

Scroll down to see the details, or just click the Continue to Checkout button to purchase Plug & Play VA by itself.

Or, do even more the easy way!

I want every part of your business to be as easy as humanly possible, so you have more time to do the important stuff (whether that's work OR life).

So I have 5 other products in the Plug & Play series that are specially designed to let you do big things with the smallest amount of work possible.

And if you want the bundle, I want you to have it all for a very affordable price.

Here's what's else you'll get.

The purpose of this product is to make every blog post you ever write a simple matter of picking a recipe.

Whether you have an idea and you don't know how to flesh it out...
Or you have a big list from The 1-Hour Content Plan and don't know what the hell to do next...
Or you sit down to write, but choke up with a blank page in front of you...
This takes care of it all.

I'll tell you exactly how to write every post you'll ever need.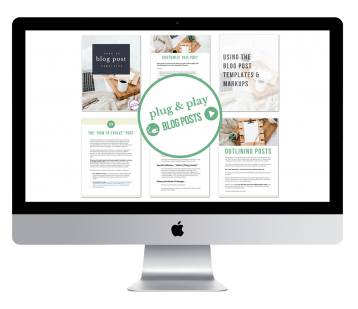 PLUG & PLAY SUBJECT LINES

The purpose of this product is twofold:

One, I want to increase your open rate between 5 and 10% within the next 3 months.

Two, I want you to never have to think about how to start an email ever again.

Write your email and pick a customized swipe file subject line, or browse the subject lines to find inspiration and get started.

Either way, it's done. Finished. You can move on. Click send with confidence.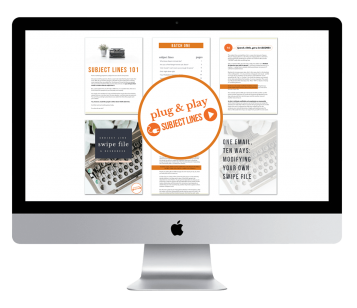 PLUG & PLAY MARKETING CALENDAR

The purpose of this product is twofold:
One, so you can finally know what you're doing with your year (or quarter), and you get out of the "figuring it out" stage.
Two, so you can do so with confidence.
Sit down, follow the steps, plug your information in, and POOF - you'll have a clear and "do-able" plan that will do all the "thinking" for you.
(You can even do it all in one sitting if you want to.)
(With plenty of time for a glass of wine afterwards.)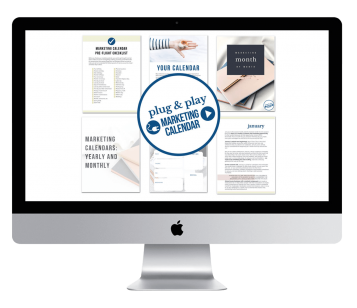 The purpose of this product is twofold:
One, I want you to be able to set your prices easily and confidently so that you can feel good asking people to pay them.
Two, because we both know you're going to want to raise your prices at some point.
We're going to take care of both of those things, right here, once and for all.
Want to feel good about your prices? Want to raise them? We can do that. :)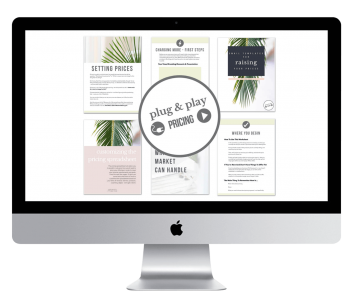 The purpose of this product is to get you consistent, coherent, and contemporary branding across the entire internet in less than one week.
From high level ("what's my brand about, anyway?") all the way down to fonts, colors, and images, you can do it all, faster than you ever thought you could.
Literally - we're going to cover everything you need.
Your new brand. In one week.
Perfectly you, perfectly consistent.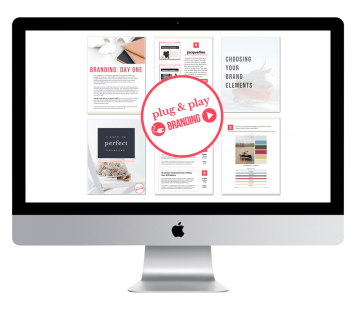 And... one REALLY cool bundle bonus.

For those who are interested, I'm also offering one more thing in this bundle.
It's something that clients have asked me to put together for years, and I've decided that now I'll finally do it.

I've run dozens and dozens of launches and promotions over the last 11 years. I've heard from clients and customers that they will often save my launch emails to study them.

(The braver of them admit they may have "borrowed" a few lines or angles here and there.)

But some people have told me "Man, I wish I had saved them all."

Well, if you want them all, you can have them all.

With my full permission to use / reuse / outright copy anything in them for your own launch or promotional emails.
Yes... you can literally steal my emails.
Now that you know what's inside, would you like to get it all for a huge discount?

If you want to get all 6 of the Plug & Play products for an amazingly low price (plus the Steal My Emails bonus), all you need to do is click the button below.


The IttyBiz Easy-Peasy 30-Day Guarantee
As always, you have the IttyBiz Guarantee - if for any reason this product isn't for you, simply let me know within 30 days of purchase and I'll issue a full refund. No questions, no hassles, no nothing. It's always safe and risk-free to give IttyBiz a try.