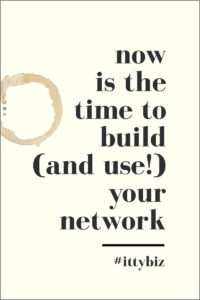 As the coronavirus pandemic unfolds, and more and more businesses are feeling the impact of quarantine, isolation, and shelter-in-place orders, so many of the traditional channels of marketing and promotion have gone away.
This shift is massively reducing the incoming revenue of almost all businesses, big and small. Everyone is going to need to change up what they're doing to adapt to this in order to keep the roof over not only their heads, but the heads of their business.
This is especially true at the ittybiz level – there's no big bailouts for us, unfortunately. So we're going to have to use every tool at our disposal to keep money flowing – even if it's in smaller quantities than we're used to.
This is where networking comes in – and for you, it matters now more than ever.