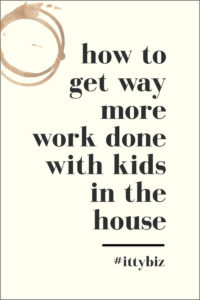 Sometimes having kids in the house makes it maddeningly hard to get things done for your ittybiz. But hope is not lost! There are strategies that can help you.
Thousands of ittybiz owners like you have to work with their kids in the house – and many of them homeschool or unschool as well – which means those kids are ALWAYS around.
How do they get their work done and keep their business growing?
Magic.
Just kidding!
They use kid-specific strategies that help them work around their parenting responsibilities – and you can use them, too, once you know what they are.
Read through these easy-to-implement strategies and start using them today, and you'll be able to accomplish more than you ever thought was possible for you.