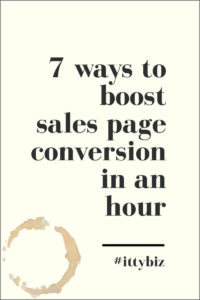 Sales pages may take a while to create, but they don't take that long to improve. You'd be surprised at how many upgrades you can build into your page in just 15, 30 or 60 minutes – and each one of those changes can lead to more sales for you.
The key to upgrading your page is your approach – either do a batch of things at once, or just do one small upgrade every once in a while. That keeps things manageable, and keeps your sales pages improving month after month.
If you're already an owner of Easy-Peasy Sales Pages, you'll know about all the little things you can do to make your existing page better.
But for those who don't – or just don't want to reopen the course at the moment – I've hand-picked 7 easy, do-able improvements that you can do quickly and easily.
Take a look and see which ones you might want to use to boost the conversion rate of your existing sales pages this month.