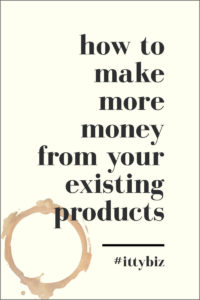 When people (myself included!) are looking to make more money in their business, our thoughts tend to drift towards doing something new.
New products. New content. New initiatives like Facebook ads, podcasts, joint ventures, list incentives, etc..
Even rebrands are part of the almost automatic reflex towards "new".
And that's cool – there's nothing wrong with doing something new, especially when that's often a path to stepping up in your business or expanding your offerings.
But you can still make a lot of money with your existing products.
Here's how.