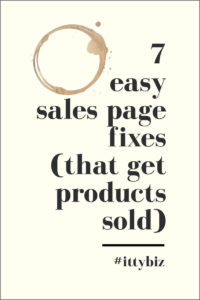 Sales pages can be a lot of work to put together – the copy, the images, the formatting and of course, any required blood, sweat and tears.
After all that work, it can be a real disappointment if your page doesn't convert well – even if you send a lot of traffic to it, maybe not that many people are buying.
But hope is not lost!
Sometimes the reason your sales page conversion is low is because of a simple, fixable problem – one that you can fix in just a few minutes.
Take a look at the sales page conversion fixes below and see if any of them apply to your sales pages. If they do, you might be able to get more people buying this very week.
Let's take a look.