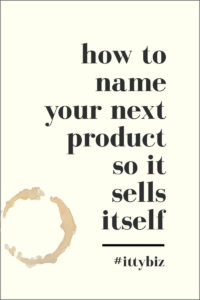 There's no one "right" way to name a product, but there are a lot of ways to choose a name that will make potential buyers more likely to buy from you.
Before you name your next product, consider the angle you want to take with your name and how that can influence your potential buyer's critical first impression of your product. (You have more influence than you think!)
With a consciously chosen angle, you can spark interest, capture attention and trigger desire for your product even before a person knows what it is – because your product name instantly makes them want to know more about what it is.
When you can pull that off, you've started the pre-selling process, and the chances of that potential customer saying "yes" to a purchase shoots up significantly.
So? How do you create that critical first impression?
Here's a selection of market-proven angles that you can choose from.